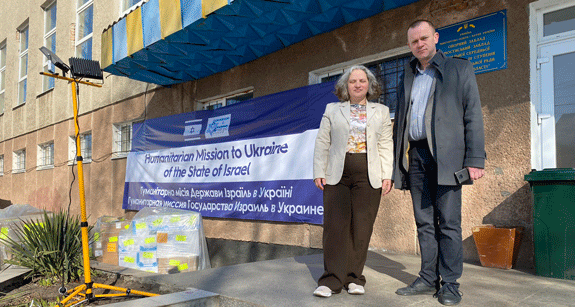 Israeli diplomats are working feverishly to care for those affected by the Ukraine crisis » J-Wire
March 29, 2022 by Mike Wagenheim
Read on for the article
In a part of the world where being Jewish once meant danger, it can now save your life.
"My grandmother was a pediatrician, then she took a second specialty in cardiology, and she worked in practice as a department head in a hospital. But she didn't get the job title because it was too much for a Jew," said Ambassador Simona Halperin, head of the Israeli Foreign Ministry mission on the Ukrainian-Polish border.
"And I was reminded of this this week when I saw thousands of people standing at the borders, trying to escape the tragedy in Ukraine. And they are standing there day and night, and there is a word that can help them. And that's if they say I'm Jewish because there's someone taking their call," she said.
"I am the granddaughter of a Polish Jew who lost his whole family in Warsaw, and for me to land in Warsaw with three cargo planes – humanitarian aid – brought to the Ukrainians, it was very emotional. You come to Ukraine and see these people lined up. It's just heartbreaking," Halperin said.
She and Ambassador Eynat Shlein, head of MASHAV-Israel's Agency for International Development Cooperation, spoke last week during a briefing on Israeli humanitarian efforts in Ukraine. The briefing was hosted by the Conference of Presidents of Major American Jewish Organizations and highlighted Israel's role in assisting Ukrainians – Jews and non-Jews – during the last month of the crisis.
Schlein describes Israel's operation there, including sending three cargo planes loaded with humanitarian aid to Ukraine. The cargo included 15,000 blankets, thousands of beds, tents and sleeping bags, as well as 10 massive water purifiers for 200,000 people and a water storage system in case the water supply breaks. . Also included were 17 tons of medicine and medical equipment and six generators, each weighing 5.5 tons.
Schlein said that Israeli embassies around Ukraine and in Poland, Hungary, Slovakia, Romania and Moldova have received significant additional budgets in order to purchase and distribute materials for the refugees.
Moshav also provided online support and webinars, with more than 1,000 Ukrainians in the mental health field participating in workshops to guide them through the process of dealing with war-induced trauma. There has also been special training for midwives, as many refugee women are pregnant, said Schlein, who added that it was the largest humanitarian effort by MASHAV and the Israeli Foreign Ministry during the course. of his three decades of diplomatic service.
"We have also initiated the creation of a field hospital, which has started to operate in Ukraine. It is about 10 miles east of the Ukraine-Poland border, and with our colleagues from the Ministry of Health, Sheba Hospital, Clalit Hospitals and the Joint (American Jewish Joint Distribution Committee ), we created this hospital. We are already welcoming almost 300 people in the last few days, including surgery, maternity, etc. There are 60 doctors, paramedics and nurses there and the team from our embassy in Kyiv, which is based now on the Ukraine-Poland border, are the contact persons for this operation," Schlein said. , adding that lines started forming in the hospital at 6 a.m.
"We spent MASHAV's annual budget in the first two weeks of March. In the next few weeks, we will send six more planes with medicines and medical equipment, and probably also food, including for Moldova, which has absorbed probably a quarter of its refugee population, and the means of Moldova are limited. We try to be creative, innovative and fast," she said.
"Let's go back to the stories of our grandparents"
While the United States announced on Friday its intention to take in up to 100,000 Ukrainian refugees, Israel had already accepted some 16,800, a number on the rise. Although there have been allegations that Israel opened its doors only or almost exclusively to Jews, Halperin said that claim is far from true. In fact, the numbers tell a much different story.
On March 22, he reported, "more than 15,243 Ukrainians arrived in Israel (the number rose to 16,858 by March 23). And of that number, less than 4,400 have eligibility or access to citizenship under Israel's Law of Return, intended for Jews and their descendants as described in the law. This means that more than 10,000 people have no reason to aliyah [legal immigration to Israel]. They are not Jews. It was not family members of Jews who were eligible. And yet they were well received," Halperin said.
She said that contrary to some reports, less than 300 Ukrainians who applied for refugee status were refused entry, about 2% of applicants. This includes people who have a history of illegal stays in Israelis, such as entering as tourists but staying beyond the visa allowance and working illegally. Halperin also said some were denied entry due to suspicions they were being trafficked and vulnerable to abuse once they entered Israel.
"I don't think even the United States has a lower percentage of rejections, and Israel, like any country, tries to be on the one hand welcoming and very, very flexible in accepting and being open. out of his arms, but also not allowing it to be taken advantage of by less than positive forces in society," Halperin said.
But history is much more than numbers, according to Schlein and Halperin.
"It goes back to the stories of our grandparents. And as a diplomat, that's not something I've done before," Schlein said, recounting an encounter she recently had.
"I met this woman who came with her mother and two of her children. She's from central Ukraine in a big city of Jewish life, and she's Jewish. And she said she escorted her mother to the border with two of the children for the mother to take the two children to Israel. However, she herself was going to return to Zhytomyr, where her husband is in a bomb shelter with two other children. Think about the dilemma. Whom do you send with your mother to go to Israel, and who do you leave with the father? said Schlein.
As Israeli diplomats continue to find solutions to impossible problems, this question is one that even they may not be able to answer.