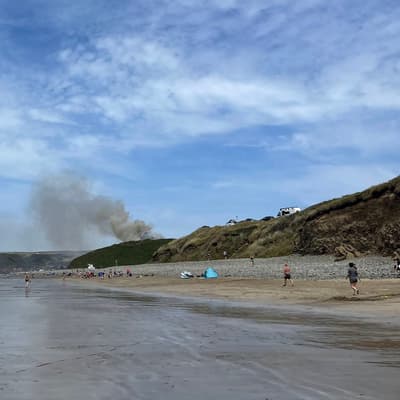 Fire crews tend to make grass fires near popular Pembrokeshire beach
Fire crews dealt with a large scale blaze overlooking Newgale beach this afternoon.
Reports suggest firefighters brought the blaze under control, after a water tanker arrived from Haverfordwest, but the smell of smoke lingers on the beach.
A Mid and West Wales Fire and Rescue Service spokesman said: 'We were called at 12.10am to a large grass fire near the car park at Newgale Beach in Pembrokeshire. Three aircraft are at the scene, from St Davids, Haverfordwest and Milford Haven, with the Coastguard also present.
"Crews are using drummers and liaising with the Coastguard, and a water tank has also been requested from Milford Haven.
'We have received many calls from members of the public and it is expected that fire crews will remain at the scene for some time.
Earlier in the week, firefighters were able to bring a grass fire under control on Tuesday that broke out on the cliffs above Monkstone Beach, just outside Tenby.
Fire crews from Tenby and Milford Haven were deployed to the incident, with around 10 hectares of gorse and undergrowth on fire.
Station manager Neil Evans, deputy head of community safety for the Mid and West Wales Fire and Rescue Service issued the following warning at the time: 'We are currently experiencing hot and dry weather conditions and forecasts for the coming weekend and next week predict that it will get even hotter.
"So I urge people to be extra careful and be aware of the increased risk of grass fires.
"If you are planning a barbecue, you must ensure that the barbecue is placed on a flat, non-combustible surface and well away from a shed, trees or shrubs.
"If you are considering burning rubbish, please reconsider this. Think, can you take it to a local authority waste disposal site instead?
"It is illegal to burn grass at this time of year and if you come across anyone burning grass you can report it, anonymously, to Crimestoppers by calling 0800 555111 or visiting crimestoppers -uk.org.
"If it's an emergency, you should always call 999.
"Let's all enjoy this beautiful weather responsibly and safely. By following the advice above, you reduce the risk of fire and reduce the impact on our fire crews, our communities and the environment.
More information on how to enjoy the outdoors safely by visiting https://www.mawwfire.gov.uk/eng/your-safety/your-garden-and-outdoors/